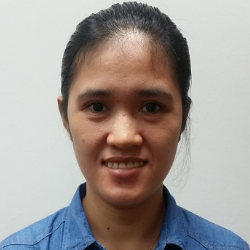 Athenna Chrystel (A10031447)
| | |
| --- | --- |
| Type | : Transfer |
| Nationality | : Filipino |
| Place of Birth | : Manila |
| Age | : 34 |
| Height | : 1.6 m |
| Weight | : 55 kg |
| Religion | : Catholic |
| | |
| --- | --- |
| Marital Status | : Married |
| Age of Children | : 12 & 7 |
| Education Level | : High School |
| Other Qualification | : Caregiver for Elderly (1 day) |
| Basic Salary & Day Off | : $647 & 2 Days Off |
| Last Drawn Salary & Day Off | : $640 & 2 Days Off |
| Available From | : Anytime |
LANGUAGES

Able to speak:

Able to understand:

English

Tagalog

Hokkien

Mandarin

English

Tagalog

Hokkien

Mandarin

Able to understand:

English

Tagalog

Hokkien

Mandarin
QUESTIONNAIRE

Are you willing to have NO day off?

: No

Are you able to work with another helper?

: Yes

Are you prepared to take off on a weekday?

: Yes

Are you willing to wash car?

: Yes

Can you handle pork?

: Yes

Can you swim?

: No

Do you eat pork?

: Yes

Can you handle pets?

: Yes

Have you suffered from any allergy?

: No

Can you handle dogs?

: Yes

Are you able to accept a vegetarian diet?

: Yes

Can you handle cats?

: Yes
SKILLS

Working Experience:

Chinese Food

Filipino Food

Able to follow recipes

Able to cook :

Chinese Food

Filipino Food

Able to follow recipes
COUNTRY OF EMPLOYMENT
Singapore: 3 Employers for 3 Years & 4 Months
LATEST EMPLOYMENT DETAILS

Name of Employer

: Mr. John Tay

Date of Employment

: Jul 2013 to Present

Nationality

: Singaporean Chinese

Total Family Members

: 4

Type of Residence

: HDB

Present Age of Child

: 19 & 20

Country of Employment

: Singapore

Present Age of Elderly

: 79 (Mother)

Reason for Leaving

: Finished Contract. My Employer decided to bring Grandma to Nursing Home.

Job Scope

Care for Elderly

Care for Disabled

General Housework

Cooking

Care for Pets

Interviewer Remarks

Grandma that she's taking care of is a mild stroke patient. She bath, feed, change diaper for Grandma and prepare medicine. She also carry Grandma who is 50kg, from bed to wheelchair and vice versa. She accompany Grandma to hospital with her employer's sister. She sleep with Grandma at night. She only do body language when she's talking with Grandma as Grandma cannot speak & understand English. She only know some words of Mandarin/Hokkien. Previously she was employed under her current employer's sister because the previous helper of Mr. John went home for holiday and they have to take a temporary helper to take care their Mother and after few months they decided to take her and they released the previous helper. She also taking care of employer's small dog, she walked the dog once a day. She has experience take care of 2yrs old kid when she worked in Philippines for 1yrs as helper before she come to Singapore. She raised her own kids and she loves taking care of kids too.