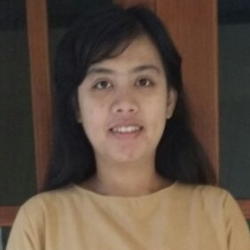 Willing 3 Days Off
About Camelia Putri Chinta
Camelia has diligently finished 2 yrs contract in Spore as a maid. She says she can cook Chinese food fairly well. She prefers to look after children above 5 yrs old onwards. She's willing to look after elderly but not disabled. She can work in big house too.
Elizabeth, UEA Interviewer
Camelia Putri Chinta (A10031901)
| | |
| --- | --- |
| Type | : Ex-Singapore |
| Nationality | : Indonesian |
| Place of Birth | : Malang |
| Age | : 29 |
| Height | : 1.57 m |
| Weight | : 56 kg |
| Religion | : Muslim |
| | |
| --- | --- |
| Marital Status | : Single |
| Age of Children | : |
| Education Level | : High School |
| Other Qualification | : SMA |
| Basic Salary & Day Off | : $600 & 4 Days Off |
| Last Drawn Salary & Day Off | : $650 & 2 Days Off |
| Available From | : Anytime |
LANGUAGES

Able to speak:

Able to understand:

English

Bahasa Indonesia

English

Bahasa Indonesia

Able to understand:

English

Bahasa Indonesia
QUESTIONNAIRE

Are you willing to have NO day off?

: No

Are you able to work with another helper?

: No

Are you prepared to take off on a weekday?

: No

Are you willing to wash car?

: Yes

Can you handle pork?

: Yes

Can you swim?

: Yes

Do you eat pork?

: No

Can you handle pets?

: Yes

Have you suffered from any allergy?

: No

Can you handle dogs?

: Yes

Are you able to accept a vegetarian diet?

: Yes

Can you handle cats?

: Yes
SKILLS

Working Experience:

Chinese Food

Indonesian Food

Able to follow recipes

Able to cook :

Chinese Food

Indonesian Food

Able to follow recipes
COUNTRY OF EMPLOYMENT
Singapore: 1 Employer for 2 Years & Month
LATEST EMPLOYMENT DETAILS

Name of Employer

: Mdm Chia

Date of Employment

: Jun 2014 to Jun 2016

Nationality

: Singaporean Chinese

Total Family Members

: 4

Type of Residence

: Condo/Apartment

Present Age of Child

: 5 (G) 2 1/2 (G)

Country of Employment

: Singapore

Present Age of Elderly

:

Reason for Leaving

: Finished Contract and I went home.

Job Scope

Care for Infant

Care for Children

General Housework

Cooking

Buy Groceries / Marketing

Interviewer Remarks

She had to go to Grandma's house with the 2 children when she first started working and she was doing it for 1 1/2 yrs. She would stay in Grandma's house from morning 8 am and go back to Employer's house at 10 pm. In Grandma's house, she did the housework, took care of the kids and helped to prepare the ingredients for Grandma to cook. She only cook on Wed, Sat and Sunday for the 1 1/2 yrs when she stayed home and for the last 6 months before her contract. She washed car once a week.