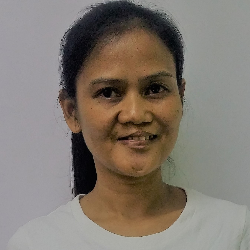 About Balbina Jenelyn
Balbina has a bubbly personality. She is cheerful and energetic. She learns and picks things up fast. She has a good sense of privacy, and goes about her chores without imposing on our personal time and space. She is able to do grocery shopping independently, and cooks well. She has an interest in cooking and is able to follow recipes. She has prepared both Chinese and Western dishes for us. At our home, she does the meal planning, groceries and cooking independently. She also does general household chores such as cleaning and laundry. We are terminating her employment as we will be returning to London for an extended period.
- Mdm Wendy Ng, current employer
Balbina Jenelyn (A10032509)
| | |
| --- | --- |
| Type | : Transfer |
| Nationality | : Filipino |
| Place of Birth | : San Juan Ils Sr |
| Age | : 37 |
| Height | : 153 m |
| Weight | : 44 kg |
| Religion | : Catholic |
| | |
| --- | --- |
| Marital Status | : Separated |
| Age of Children | : 14 (B) |
| Education Level | : Undergrad |
| Other Qualification | : 2nd yr Info Tech |
| Basic Salary & Day Off | : $650 & 4 Days Off |
| Last Drawn Salary & Day Off | : $600 & 4 Days Off |
| Available From | : Anytime |
LANGUAGES

Able to speak:

Able to understand:

English

Tagalog

Chinese

Malay

English

Tagalog

Chinese

Able to understand:

English

Tagalog

Chinese
QUESTIONNAIRE

Are you willing to have NO day off?

: No

Are you able to work with another helper?

: Yes

Are you prepared to take off on a weekday?

: No

Are you willing to wash car?

: Yes

Can you handle pork?

: Yes

Can you swim?

: No

Do you eat pork?

: Yes

Can you handle pets?

: Yes

Have you suffered from any allergy?

: No

Can you handle dogs?

: Yes

Are you able to accept a vegetarian diet?

: Yes

Can you handle cats?

: Yes
SKILLS

Working Experience:

Chinese Food

Filipino Food

Able to follow recipes

Able to cook :

Chinese Food

Filipino Food

Able to follow recipes
COUNTRY OF EMPLOYMENT
Singapore: 3 Employers for 9 Years & 10 Months
Bali: 1 Employer for Year & 8 Months
LATEST EMPLOYMENT DETAILS

Name of Employer

: Mdm Wendy

Date of Employment

: Nov 2017 to present

Nationality

: Singaporean Chinese

Total Family Members

: 2

Type of Residence

: Condo/Apartment

Present Age of Child

:

Country of Employment

: Singapore

Present Age of Elderly

:

Reason for Leaving

: Employer is leaving country and they will not need my service anymore.

Job Scope

General Housework

Cooking

Buy Groceries / Marketing

Interviewer Remarks

She can cook some Western food like mashed potato, roast chicken thigh, alio alio pasta, mixed roast vegetables, salad and Chinese dishes like chicken curry, fry vegetables, lotus soup, abc soup, bak kut teh soup, steam fish, chicken stew with potato and carrots, assam fish etc. She goes marketing twice a week and grocery shopping.
LONGEST EMPLOYMENT DETAILS

Name of Employer

: Mr Chua

Date of Employment

: Dec 2011 to May 2017

Nationality

: Singaporean Chinese

Total Family Members

: 5

Type of Residence

: HDB

Present Age of Child

: 17(G) 15(B) 13 (B)

Country of Employment

: Singapore

Present Age of Elderly

:

Reason for Leaving

: Employer don't need a helper anymore because the children are grown up.

Job Scope

Care for Children

General Housework

Cooking

Buy Groceries / Marketing