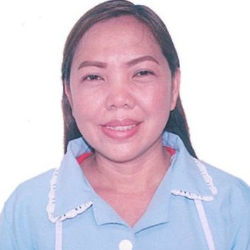 Willing 1 Day Off
About Ellen
Ellen worked in Saudi Arabia for 2 yrs. Even she is 45 yrs old she still have the ability, strength and energy to work. She seems a good person, matured and sincere helper. She has passion and love to cook. And she is still willing to learn new dishes. She said she is capable to take care of babies and children as she has experienced from her children and her grandchild. She is also willing to take care of elderly even disabled if she will be given a chance. Ellen described herself friendly, meticulous in doing household chores and can easily adopt in new environment. She is willing to accept 1 day off in a month.
Chela, UEA Interviewer
Ellen (A10032785) | Total Salary $675 inclusive of 3 Days Off Compensation
| | |
| --- | --- |
| Type | : Ex-Abroad |
| Nationality | : Filipino |
| Place of Birth | : Cabanatuan City |
| Age | : 46 |
| Height | : 1.5 m |
| Weight | : 57 kg |
| Religion | : Catholic |
| | |
| --- | --- |
| Marital Status | : Married |
| Age of Children | : 25 & 17 |
| Education Level | : Undergrad |
| Other Qualification | : Accountancy |
| Basic Salary & Day Off | : $600 & 1 Day Off |
| Last Drawn Salary & Day Off | : NA |
| Available From | : Anytime |
LANGUAGES

Able to speak:

Able to understand:

English

Tagalog

English

Tagalog

Able to understand:

English

Tagalog
QUESTIONNAIRE

Are you willing to have NO day off?

: No

Are you able to work with another helper?

: Yes

Are you prepared to take off on a weekday?

: Yes

Are you willing to wash car?

: Yes

Can you handle pork?

: Yes

Can you swim?

: No

Do you eat pork?

: Yes

Can you handle pets?

: Yes

Have you suffered from any allergy?

: No

Can you handle dogs?

: Yes

Are you able to accept a vegetarian diet?

: Yes

Can you handle cats?

: Yes
SKILLS

Working Experience:

Filipino Food

Able to follow recipes

Arabic

Able to cook :

Filipino Food

Able to follow recipes

Arabic
COUNTRY OF EMPLOYMENT
Middle East: 1 Employer for 2 Years & Month
LATEST EMPLOYMENT DETAILS

Name of Employer

: Princess Luluah

Date of Employment

: Mar 2007 to Mar 2009

Nationality

: Arabic

Total Family Members

: 7

Type of Residence

: Landed

Present Age of Child

: 12 & 10 (Grandchildr

Country of Employment

: Middle East

Present Age of Elderly

: NA

Reason for Leaving

: Finished Contract. And I went back home.

Job Scope

General Housework

Cooking

Interviewer Remarks

She is employed under the mother but she is staying in the employer's daughter house. She work in a royalty family. She worked with 12 helpers: 2 cooks, 2 dressmaker, 2 nanny's of the grandchildren and 6 helpers. She is the PA of the employer's daughter (princess) who is 23 yrs old. She clean her room, cook for her, wash and iron her clothes and accompany her every where she goes. She is currently doing a part-time job in Phils. She called it on call housekeeper. Employer will call her and ask her to clean the whole house.