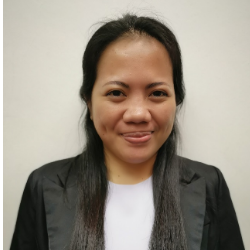 Willing 2 off days
About Donna Karissa
Donna is a Filipino transfer maid who is finishing her contract soon. Her duties are general housework, buying groceries/marketing, taking care of the 2 children and also the elderly. She cook lunch and dinner for the family. She can accept 2 days off per month. Her total net salary will be S$670 with 2 days off.
Elizabeth, UEA Interviewer
Donna Karissa (A10033006)
| | |
| --- | --- |
| Type | : Transfer |
| Nationality | : Filipino |
| Place of Birth | : STA Ignacia |
| Age | : 31 |
| Height | : 1.63 m |
| Weight | : 54 kg |
| Religion | : Catholic |
| | |
| --- | --- |
| Marital Status | : Single |
| Age of Children | : NIL |
| Education Level | : Undergrad |
| Other Qualification | : BS Criminology |
| Basic Salary & Day Off | : $620 & 2 Days Off |
| Last Drawn Salary & Day Off | : $613 & 1 Day Off |
| Available From | : Anytime |
LANGUAGES

Able to speak:

Able to understand:

English

Tagalog

Chinese

English

Tagalog

Chinese

Able to understand:

English

Tagalog

Chinese
QUESTIONNAIRE

Are you willing to have NO day off?

: No

Are you able to work with another helper?

: Yes

Are you prepared to take off on a weekday?

: Yes

Are you willing to wash car?

: Yes

Can you handle pork?

: Yes

Can you swim?

: Yes

Do you eat pork?

: Yes

Can you handle pets?

: Yes

Have you suffered from any allergy?

: No

Can you handle dogs?

: Yes

Are you able to accept a vegetarian diet?

: Yes

Can you handle cats?

: Yes
SKILLS

Working Experience:

Chinese Food

Western Food

Filipino Food

Indian Food

Able to follow recipes

Able to cook :

Chinese Food

Western Food

Filipino Food

Indian Food

Able to follow recipes
COUNTRY OF EMPLOYMENT
Singapore: 3 Employers for 2 Years & 6 Months
LATEST EMPLOYMENT DETAILS

Name of Employer

: Mr Gerard Er

Date of Employment

: May 2017 to Present

Nationality

: Singaporean Chinese

Total Family Members

: 6

Type of Residence

: HDB

Present Age of Child

: 9 & 12 (nieces)

Country of Employment

: Singapore

Present Age of Elderly

: Parents 61 & 76

Reason for Leaving

: Finishing Contract and employer doesn't need my service anymore because the children's mother will be coming over from China to take care of them.

Job Scope

Care for Children

Care for Elderly

General Housework

Cooking

Buy Groceries / Marketing

Interviewer Remarks

Every night Donna will need to massage both the elderly as well as prepare the foot spa for them. She also get the 2 Grandchildren ready to go to school and coach them with their homework. Every Sunday Donna will go to another house which is a landed 4 storey to help up as there is a family gathering. Donna cook everyday for lunch and dinner for the family. She will follow grandma to go to market every Friday.