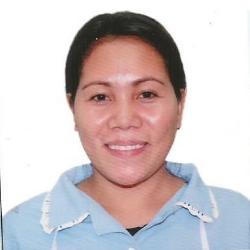 Willing 2 Days Off
About Linda
Linda is an experienced Transfer Filipino maid who has worked in Spore for more than 2 years. She can take care of children from 3 yrs old and also elderly. She loves to cook and willing to learn more. She can handle dogs because she is not afraid. She can accept 2 days off per month.
- Elizabeth, UEA Interviewer
Linda (A10033204) | Total Salary $650 incl 2 Days Off Compensation
| | |
| --- | --- |
| Type | : Transfer |
| Nationality | : Filipino |
| Place of Birth | : Bago City |
| Age | : 34 |
| Height | : 1.65 m |
| Weight | : 58 kg |
| Religion | : Catholic |
| | |
| --- | --- |
| Marital Status | : Married |
| Age of Children | : 12, 9 & 3 |
| Education Level | : High School |
| Other Qualification | : |
| Basic Salary & Day Off | : $600 & 2 Days Off |
| Last Drawn Salary & Day Off | : $600 & 4 Days Off |
| Available From | : Anytime |
LANGUAGES

Able to speak:

Able to understand:

English

Tagalog

English

Tagalog

Able to understand:

English

Tagalog
QUESTIONNAIRE

Are you willing to have NO day off?

: No

Are you able to work with another helper?

: Yes

Are you prepared to take off on a weekday?

: Yes

Are you willing to wash car?

: Yes

Can you handle pork?

: Yes

Can you swim?

: No

Do you eat pork?

: Yes

Can you handle pets?

: Yes

Have you suffered from any allergy?

: No

Can you handle dogs?

: Yes

Are you able to accept a vegetarian diet?

: No

Can you handle cats?

: No
SKILLS

Working Experience:

Chinese Food

Western Food

Filipino Food

Able to follow recipes

Able to cook :

Chinese Food

Western Food

Filipino Food

Able to follow recipes
COUNTRY OF EMPLOYMENT
Singapore: 2 Employers for 2 Years & 3 Months
LATEST EMPLOYMENT DETAILS

Name of Employer

: Mdm Lim

Date of Employment

: May 2019 to Present

Nationality

: Singaporean Chinese

Total Family Members

: 3

Type of Residence

: Landed

Present Age of Child

:

Country of Employment

: Singapore

Present Age of Elderly

:

Reason for Leaving

: It's a temporary job for 2 mths only because employer's helper goes back to Philippines for vacation.

Job Scope

General Housework

Cooking

Buy Groceries / Marketing
LONGEST EMPLOYMENT DETAILS

Name of Employer

: Mdm Chia

Date of Employment

: Mar 2012 to Mar 2014

Nationality

: Singaporean Chinese

Total Family Members

: 2

Type of Residence

: Landed

Present Age of Child

: 42

Country of Employment

: Singapore

Present Age of Elderly

: Empl 60+

Reason for Leaving

: Finished Contract.

Job Scope

Care for Elderly

General Housework

Cooking

Buy Groceries / Marketing

Interviewer Remarks

She worked alone in a 3 storey landed house. She took care of her employer who had breast cancer. She prepare her food, give her medication and bring her to hospital for chemo treatment. She slept together with her in the same room. She did gardening and she wash car. She had to cook dinner for employer's married children and family who will come to my employer's house on Fri. She also had to cook for employer's daughter to bring to the art class of 10 and also cook 2 dishes for Sunday church members of 20.