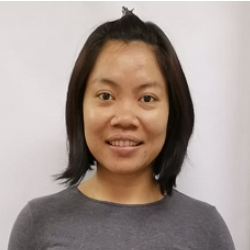 Willing 2 Days Off
About Susantri
Susantri is an experienced Transfer Indonesian domestic helper with over 4 yrs experience in Spore and 2 yrs in Taiwan. She says she can look after children above 5 yrs old but not babies. She can take care of elderly too as she already had the experience when she worked in Taiwan for 2 years. She likes cooking and has confidence to cook better. She can cook Indonesian, Malay and Chinese food. She can speak both Mandarin and English fairly well. She can take 2 days off per month.
Elizabeth, UEA Interviewer
Susantri (A10033216) | Total Salary $650 inclusive of 2 Days Off Compensation
| | |
| --- | --- |
| Type | : Transfer |
| Nationality | : Indonesian |
| Place of Birth | : Montong Gamang |
| Age | : 32 |
| Height | : 1.57 m |
| Weight | : 57 kg |
| Religion | : Muslim |
| | |
| --- | --- |
| Marital Status | : Married |
| Age of Children | : 9 |
| Education Level | : High School |
| Other Qualification | : SMA |
| Basic Salary & Day Off | : $600 & 2 Days Off |
| Last Drawn Salary & Day Off | : $550 & 4 Days Off |
| Available From | : Anytime |
LANGUAGES

Able to speak:

Able to understand:

English

Bahasa Indonesia

Chinese

English

Chinese

Able to understand:

English

Chinese
QUESTIONNAIRE

Are you willing to have NO day off?

: No

Are you able to work with another helper?

: No

Are you prepared to take off on a weekday?

: Yes

Are you willing to wash car?

: Yes

Can you handle pork?

: Yes

Can you swim?

: No

Do you eat pork?

: No

Can you handle pets?

: No

Have you suffered from any allergy?

: No

Can you handle dogs?

: No

Are you able to accept a vegetarian diet?

: No

Can you handle cats?

: No
SKILLS

Working Experience:

Chinese Food

Indonesian Food

Able to follow recipes

Malay

Able to cook :

Chinese Food

Indonesian Food

Able to follow recipes

Malay
COUNTRY OF EMPLOYMENT
Singapore: 5 Employers for 4 Years & 3 Months
Taiwan: 1 Employer for 2 Years & 0 Month
LATEST EMPLOYMENT DETAILS

Name of Employer

: Mr Teo

Date of Employment

: Sep 2018 to Present

Nationality

: Singaporean Chinese

Total Family Members

: 4

Type of Residence

: HDB

Present Age of Child

: 7 mths old, 3

Country of Employment

: Singapore

Present Age of Elderly

:

Reason for Leaving

: I cannot take care of baby.

Job Scope

Care for Children

General Housework

Cooking

Buy Groceries / Marketing
LONGEST EMPLOYMENT DETAILS

Name of Employer

: Mr Li

Date of Employment

: Nov 2013 to Aug 2016

Nationality

: Chinese

Total Family Members

: 4

Type of Residence

: Condo/Apartment

Present Age of Child

: 3, 7 & 10

Country of Employment

: Singapore

Present Age of Elderly

:

Reason for Leaving

: Finished Contract because employer go back to China.

Job Scope

Care for Children

General Housework

Cooking

Buy Groceries / Marketing

Interviewer Remarks

She worked together with another Filipino helper whose main duties were looking after the youngest child from newborn. After working 4 mths for employer from Aug 2016 to Dec 2016, she transfer her back to Mr Li again and she worked 5 mths from Dec 2016 to May 2017 before they go back to China again.