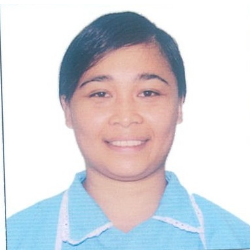 Willing 0 Day Off
About Rosalie
Rosalie is a fresh helper but she has experience working in Phils as a helper for almost 6 yrs. She mainly do household chores, cooking and sometimes going to market. She also help to look after her employer's son who was 10 yrs old. She bring and fetch the child from school and play with him. She is willing to take care of new born, infant, elderly even disabled. She is someone who has willingness to learn, simple and helpful. She want to work in Singapore to help and support her parents in their financial needs.
Chela, UEA Interviewer
Rosalie (A10033471) | Total Salary $700 incl with 4 Days Off Compensation
| | |
| --- | --- |
| Type | : No-Experience |
| Nationality | : Filipino |
| Place of Birth | : Pagudin, Ilocos Sur |
| Age | : 26 |
| Height | : 1.57 m |
| Weight | : 60 kg |
| Religion | : Catholic |
| | |
| --- | --- |
| Marital Status | : Single |
| Age of Children | : NA |
| Education Level | : Graduate |
| Other Qualification | : Computer (2 yrs) |
| Basic Salary & Day Off | : $600 & 4 Days Off |
| Last Drawn Salary & Day Off | : NA |
| Available From | : Anytime |
LANGUAGES

Able to speak:

Able to understand:

English

Tagalog

English

Tagalog

Able to understand:

English

Tagalog
QUESTIONNAIRE

Are you willing to have NO day off?

: Yes

Are you able to work with another helper?

: Yes

Are you prepared to take off on a weekday?

: Yes

Are you willing to wash car?

: Yes

Can you handle pork?

: Yes

Can you swim?

: No

Do you eat pork?

: Yes

Can you handle pets?

: Yes

Have you suffered from any allergy?

: No

Can you handle dogs?

: Yes

Are you able to accept a vegetarian diet?

: Yes

Can you handle cats?

: Yes
SKILLS

Working Experience:

Filipino Food

Able to cook :

Filipino Food
COUNTRY OF EMPLOYMENT
Philippines: 1 Employer for 5 Years & 9 Months
LATEST EMPLOYMENT DETAILS

Name of Employer

: Mrs. Alfiler

Date of Employment

: Jun 2012 to Mar 2018

Nationality

: Filipino

Total Family Members

: 2

Type of Residence

: Landed

Present Age of Child

: 10 (B)

Country of Employment

: Philippines

Present Age of Elderly

: NA

Reason for Leaving

: Employer's auntie & uncle decided to stay in her employer's house to look after the child and their house.

Job Scope

Care for Children

General Housework

Cooking

Buy Groceries / Marketing

Interviewer Remarks

Mrs. Alfiler husband is working overseas. Rosalie's main priority is to take care of the house, do all the household chores, washing and ironing of clothes and cooking. Her Ma'am is the one who take care of the child. She only help to look after the child if her Ma'am is not around. When her employer went to work overseas, Rosalie was left alone with the child, doing everything at the same time. She bring and fetch the child from school, prepare his food and play with him.