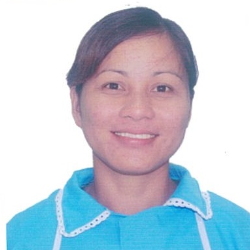 Willing 1 Day Off
About Regina
Regina is currently working as Brgy Official in their place. She had 4 months experience in Singapore taking care of 4 yrs old twins and sharing the household chores with the other helper. She's still willing to take care of children even babies and infants. She said she has patience in handling them. She is also willing to take care of elderly even disabled. She is willing to learn and she can follow recipe in cooking. She described herself as hardworking person and friendly.
Chela, UEA Interviewer
Regina (A10033490) | Total Salary $675 inclusive of 3 Days Off Compensation
| | |
| --- | --- |
| Type | : Ex-Singapore |
| Nationality | : Filipino |
| Place of Birth | : Burgos Ilocos Sur |
| Age | : 33 |
| Height | : 1.6 m |
| Weight | : 46 kg |
| Religion | : Catholic |
| | |
| --- | --- |
| Marital Status | : Single |
| Age of Children | : NA |
| Education Level | : Undergrad |
| Other Qualification | : Medical Office Mgt (2 yrs) |
| Basic Salary & Day Off | : $600 & 4 Days Off |
| Last Drawn Salary & Day Off | : $580 & No Day Off |
| Available From | : Anytime |
LANGUAGES

Able to speak:

Able to understand:

English

Tagalog

English

Tagalog

Able to understand:

English

Tagalog
QUESTIONNAIRE

Are you willing to have NO day off?

: No

Are you able to work with another helper?

: Yes

Are you prepared to take off on a weekday?

: No

Are you willing to wash car?

: Yes

Can you handle pork?

: Yes

Can you swim?

: No

Do you eat pork?

: Yes

Can you handle pets?

: No

Have you suffered from any allergy?

: No

Can you handle dogs?

: No

Are you able to accept a vegetarian diet?

: Yes

Can you handle cats?

: No
SKILLS

Working Experience:

Filipino Food

Able to follow recipes

Able to cook :

Filipino Food

Able to follow recipes
COUNTRY OF EMPLOYMENT
Singapore: 1 Employer for 0 Year & 4 Months
LATEST EMPLOYMENT DETAILS

Name of Employer

: Mr. Tan

Date of Employment

: Apr 2016 to Aug 2016

Nationality

: Singaporean

Total Family Members

: 4

Type of Residence

: Condo/Apartment

Present Age of Child

: 4 (twin boys)

Country of Employment

: Singapore

Present Age of Elderly

: NA

Reason for Leaving

: My Employer don't give us enough food and we don't have enough sleep so I decided to go back home.

Job Scope

Care for Children

General Housework

Interviewer Remarks

She worked with another Filipino helper. They share doing household chores like cleaning, ironing and washing of clothes. She is in-charge of looking after the twins. She bathe and give their food. Most of the time they buy food outside or sometimes her Ma'am cook for them.