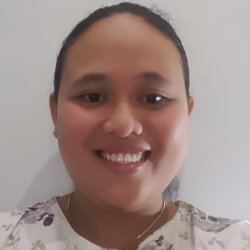 Willing 1- 2 Days Of
About Susilowati
Susilowati is an experienced Indonesian helper. She worked in Singapore for 5 yrs with 1 Employer and in Hong Kong for a year. She seems a good helper who can work independently, reliable and flexible. She loves to take care of children. She said she is also willing to take care of babies as long as employer willing to teach her first as she don't have an experience yet. She described herself cheerful and friendly person. She is willing to accept 1-2 days off in a month. And she is ready to come back to Singapore anytime.
Chela, UEA Interviewer
Susilowati (A10033600) | Total Salary $725 incl of 3 Days Off Compensation
| | |
| --- | --- |
| Type | : Ex-Singapore |
| Nationality | : Indonesian |
| Place of Birth | : Madiun |
| Age | : 33 |
| Height | : 1.5 m |
| Weight | : 65 kg |
| Religion | : Muslim |
| | |
| --- | --- |
| Marital Status | : Married |
| Age of Children | : NA |
| Education Level | : High School |
| Other Qualification | : SMA |
| Basic Salary & Day Off | : $650 & 1 Day Off |
| Last Drawn Salary & Day Off | : $600 & 4 Days Off |
| Available From | : Anytime |
LANGUAGES

Able to speak:

Able to understand:

English

Bahasa Indonesia

English

Bahasa Indonesia

Able to understand:

English

Bahasa Indonesia
QUESTIONNAIRE

Are you willing to have NO day off?

: No

Are you able to work with another helper?

: Yes

Are you prepared to take off on a weekday?

: No

Are you willing to wash car?

: Yes

Can you handle pork?

: Yes

Can you swim?

: No

Do you eat pork?

: No

Can you handle pets?

: No

Have you suffered from any allergy?

: No

Can you handle dogs?

: No

Are you able to accept a vegetarian diet?

: No

Can you handle cats?

: No
SKILLS

Working Experience:

Chinese Food

Indonesian Food

Able to follow recipes

Able to cook :

Chinese Food

Indonesian Food

Able to follow recipes
COUNTRY OF EMPLOYMENT
Singapore: 1 Employer for 5 Years & 0 Month
Hong Kong: 1 Employer for 1 Year & 0 Month
LATEST EMPLOYMENT DETAILS

Name of Employer

: Mdm Eng

Date of Employment

: Dec 2013 to Dec 2018

Nationality

: Singaporean Chinese

Total Family Members

: 6

Type of Residence

: HDB

Present Age of Child

: 6 & 8

Country of Employment

: Singapore

Present Age of Elderly

: 60+ (Ma'am & Sir)

Reason for Leaving

: Finished 2 Contract. I went back home to get married.

Job Scope

Care for Infant

Care for Children

General Housework

Cooking

Buy Groceries / Marketing

Interviewer Remarks

She mainly take care of the children. She took care the youngest child since 1 yr old, she do everything like taking him a bath, giving him food, she usually play with them as well. When they started to go to school she bring and fetch them as well as in their tuition school. In her first 3 yrs her employer stayed in Condo, 3 storey and then they moved to HDB, 3 bedrooms as it will be nearer to children's school. She also do household chores, cooking, marketing and wash 2 cars twice a week. She usually cook Chinese and Indonesian food, she is the one who plan the meal for the week. And she went to the market on her own. Susilowati also worked in HK for a year. Sometimes she helped to take care of Grandma who is still mobile but use walking stick and sometimes wheelchair. She mainly do housework and cooking because Grandma had her own caregiver. When Grandma passed away, Employer send her back to her home country.