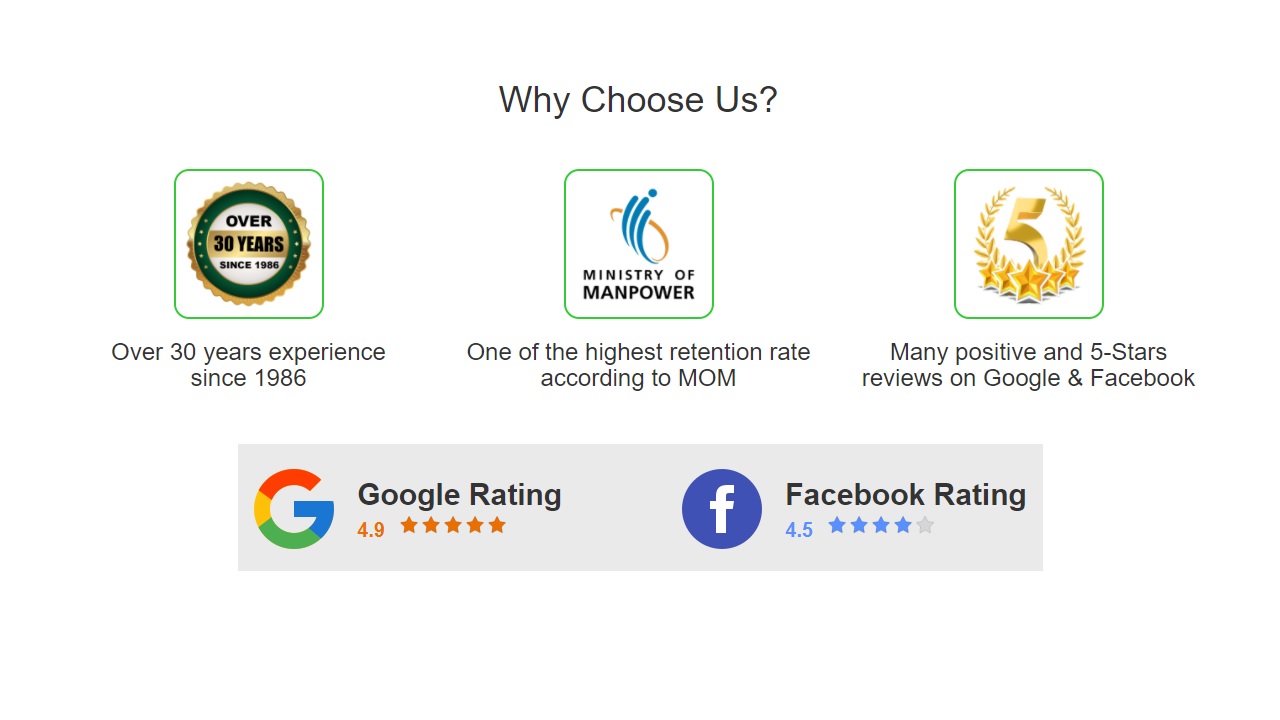 Best Maid Agency in Singapore
Are we Singapore's best maid agency? Well, with a very high rating of 4.9/5 on Google and 4.5/5 on Facebook, it is no surprise we may be one of the best maid agency in Singapore. And according to the Ministry of Manpower (MOM), we have one of the highest retention rate and all our stats according to MOM are indeed above industry average, do check on MOM's website
here
. But I think the best way to decide if we are indeed the best maid agency in Singapore, is simply to let our customers' reviews on our maid agency be the judge. Do read all the reviews
here
. Or let us serve you like we always do, below are some of our favourite maid agency reviews in no order of preference:
1)
"This is a excellent agency that helps clients find the helper that best fit their needs. My experience with them is smooth sailing. In this covid crisis, it is especially obvious that their ability to meet my needs is head and shoulders above other agencies. A shoutout to Karoll, thank you so much for making this whole process a wonderful experience..", by Kenny Loy.
Thank you Kenny for your kind words!
2)
"Glad that I found UEA! The team esp Jenny is very helpful, responsive and proactive in providing biodatas that fit our requirements in such a short notice especially during this unprecedented times! Appreciate their efforts! I would definitely recommend this agency!", by Soo Ing.
Thank you Soo Ing, we are blessed to have many transfer maids available even during this pandemic. This is an accumulation of hard work over many years and the reputation built up among the foreign domestic workers in Singapore to trust our maid agency, Universal Employment Agency Pte Ltd whenever they need to transfer to a new employer, they always think of us first!
3)
"Karoll has been extremely helpful since the day I contacted the agency. Within a few hours after my call, she provided me with bio data of 5 potential transfer helpers. And by the next day, detailed employment history of all these helpers. She responded to my messages very promptly and arranged interviews very quickly upon my requests. I hired my new helper within 6 days! Fantastic job Karoll!", by Lynn Koh.
Thank you Lynn, we always endeavour to serve our customers in the fastest possible manner. However, we are not always perfect but we are just glad that we have many patient customers who are understanding that sometimes we can be overwhelmed with too many enquiries and we try our best to each and every enquiry as soon as possible.
4)
"Recommended by a friend who knows we are looking for a domestic helper urgently. Called and was served by Sophie. She over efficient and able to arrange an Zoom interview within half hour. Happy with the quick response and efficiency provided by them. Happy to recommend to my friends", by Carrie Poon.
Thank you Carrie, and yes it's true, majority of our customers are actually through word of mouth. We always strive to match the right maid to the right family and that has resulted in our maid agency having 1 of the highest Retention Rate as stated on the Ministry of Manpower website, do check here and search for Universal Employment Agency Pte Ltd.
5)
"Karoll was a lifesaver to help us find a transfer helper very quickly in this climate where helpers are in short supply. She matched us well and efficiently with a helper who can cook, clean, plenty of experience and most important can handle our young baby. We are very grateful!", by Jeremy Liang.
Thank you Jeremy, matching the right helper to the right family is what we do best for over 30 years since 1986 and will continue to do so for many more years to come. Of course with our loyal customers' support, we are very motivated to keep serving everyone to the best of our ability.
6)
"Universal provides very professional service and they give very good advice on choosing the right helper. We have been using their service For many years. One of our helper with nursing background, she is really good and experience on taking care of my father who is bedridden. I have both helpers for my family, both are from Universal, they both are good, caring and loving. Universal is very honest and reliable agent. Thanks Universal!", by Catherine Lim.
Thank you Catherine for being so loyal to our maid agency over so many years. And yes we are happy to serve you and your extended family as well. Whether is it for elderly care or for taking care of children, we always have the right helper for the right family.
7)
"Thanks Sophie for assisting us in searching a suitable helper for our family during this period. She has been prompt and patiently walking us through our requirements, answering our queries and also providing sound advice. Will recommend this to our friends!", by Andy Lee.
Thank you Andy for your trust in us. And thank you for sharing with your family and friends about your good experience in hiring a maid from our agency!
8)
"Highly recommend! It isn't easy looking for a helper during this period but my agent Karoll was very responsive, efficient and patient. She understood our requirements well and provided us with suitable profiles.", by Weiting Tan.
Thank you Weiting, and yes it's true... especially during this pandemic, not many maid agencies in Singapore have transfer helpers, but we do. And yes we do listen to our customers' requirements very intently before advising which helper you should hire. But of course, ultimately it's always the employer's final decision and we are happy everything is working out with your new transfer helper from our agency.
9)
"Thank you universal Employment Agency in the prompt reply and arranging interviews with the potential candidates. We have found a transfer helper in this period that is matches our requirements.", by Adeline Chua.
Thank you Adeline and we are delighted that you have found our maid hiring service a bliss. Very few maid agencies in Singapore have transfer helpers available and we are happy you found the right helper for your family. All the best!
10)
"Attended by Jenny. Very nice, friendly and patient staff who really took time to explain every details to us as a first time employer. At least she helped us to clarify many unknown matters to the helper which she may not know and we also do not know. She can also recommend a helper that suits our family's characters and needs and not anyhow to recommend and pushing unsuitable one to us.", by Yvonne Lim.
Thank you Yvonne! It's our pleasure to assist you to clarify any doubts that you may have when it comes to hiring a maid for the first time. You are not the first and definitely not the last and we definitely feel your anxiety about hiring a maid for the first time, which is why we are not the "pushy" type of maid agency. We prefer to match the right helper properly, it makes you happy and it also makes us happy. And that is how we keep on getting new referrals. It's a very simple formula perfected over 30 years and the end result of having an above industry average for retention rate is definitely a good score to have as can be seen on the
MOM's website
.
Well that wraps up our top 10 favourite reviews on our maid agency from our very happy and satisfied customers. If you wish to read more reviews, do click
here
. It will take awhile to go through all of them cause there is too many to list above but if it helps you make a better overall decision to engage our services to hire a maid, it's definitely worthwhile to spend some time learning about our customers' experience with us.
So far so good? Now, if you are ready to make the next move which is to hire a maid, do give us a call at 6735 3456 and we will be more than happy to assist you to find the right maid for your family!