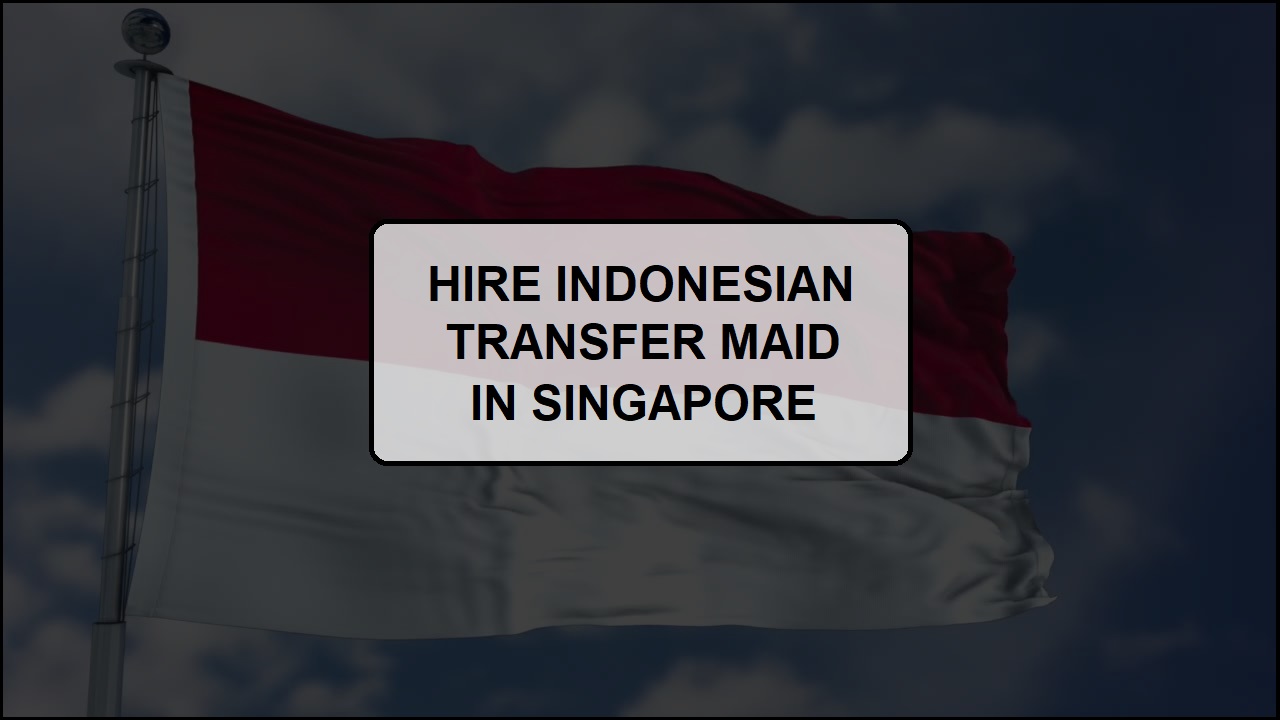 Hiring an Indonesian Transfer Maid in Singapore
Looking to hire an Indonesian maid soon? Then your only choice is to hire an Indonesian transfer maid. Why? It's because that's the fastest option unless you are willing to wait up to 3 months. Why 3 months waiting time to bring an Indonesian maid from overseas? That's because of the fewer flight availability nowadays and the high frequency of flight cancellation at the very last minute by the airlines. Also, before you can book an air ticket for her to come over to Singapore, you will first need to obtain an Entry Approval by the Ministry of Manpower (MOM).
It is very risky to book an air ticket first and then try and get an Entry Approval from the MOM. Why is it risky you may ask? Well, due to the Singapore Government's need to control the inflow of travellers into Singapore because of the Covid-10 pandemic, it is absolutely necessary to ensure the daily quota is not exceeded and the general public wouldn't know what the exact quota is. So without any clarity, getting an Entry Approval is at best 50-50 odds or sometimes worse. At the start of the Circuit Breaker Phase 1, it was near impossible, odds were super low to get an approval. But since the start of Phase 2, it got better but still no guarantee.
So if you must hire an Indonesian maid who isn't currently in Singapore, here is a step by step guide:
Step 1) Ensure she has a valid passport ready.
Step 2) She will need to do a medical to ensure she is in the pink of health, otherwise it's very costly to spend so much money and wait so long only to find out that she isn't medically fit upon arrival in Singapore.
Step 3) Check for flight availability to Singapore.
Step 4) Once you have identified a certain date, DO NOT book the air ticket first. You must submit a request to the MOM for an Entry Approval first.
Step 5) Upon approval by the MOM, then proceed to book for the air ticket. Pray that the air ticket is still available and isn't too costly by the time you are ready to book it.
Step 6) Before departing her country, she will need to do a rapid test or a swab test for Covid-19.
Step 7) You should then receive an email from the MOM to make payment of $1,700 in total and the breakdown is as such, $1,500 for Stay-Home Notice + $200 for Covid-19 Test in Singapore.
There are a few other steps before and after but by this point if it is already quite confusing for you, then it might be a good idea to approach a reliable maid agency in Singapore, like us, Universal Employment Agency Pte Ltd who has over 30 years of experience in the maid industry. We will know how best to get your Indonesian maid into Singapore, leave the hassle to us.
And if we happen to scare you with the crazy number of steps as above, not to worry, you are not alone. Many employers in Singapore are now preferring to hire a transfer maid. So you can actually hire an Indonesian transfer maid in Singapore if you prefer this nationality. And yes, we can help you with this too. But if you suddenly have a change of mind and now prefer to hire a Filipino transfer maid, then do click
here
for more information.
Simply give us your requirements and we will do our best to quickly match to suitable Indonesian maids on transfer, arrange the video / phone interviews and hopefully you do see someone you would like to hire. So, if time isn't on your side, then please do not hesitate to quickly approach our friendly sales team at 6735 3456 and we will more than happy to discuss your requirements and find you the right Indonesian transfer maid soon for your family!