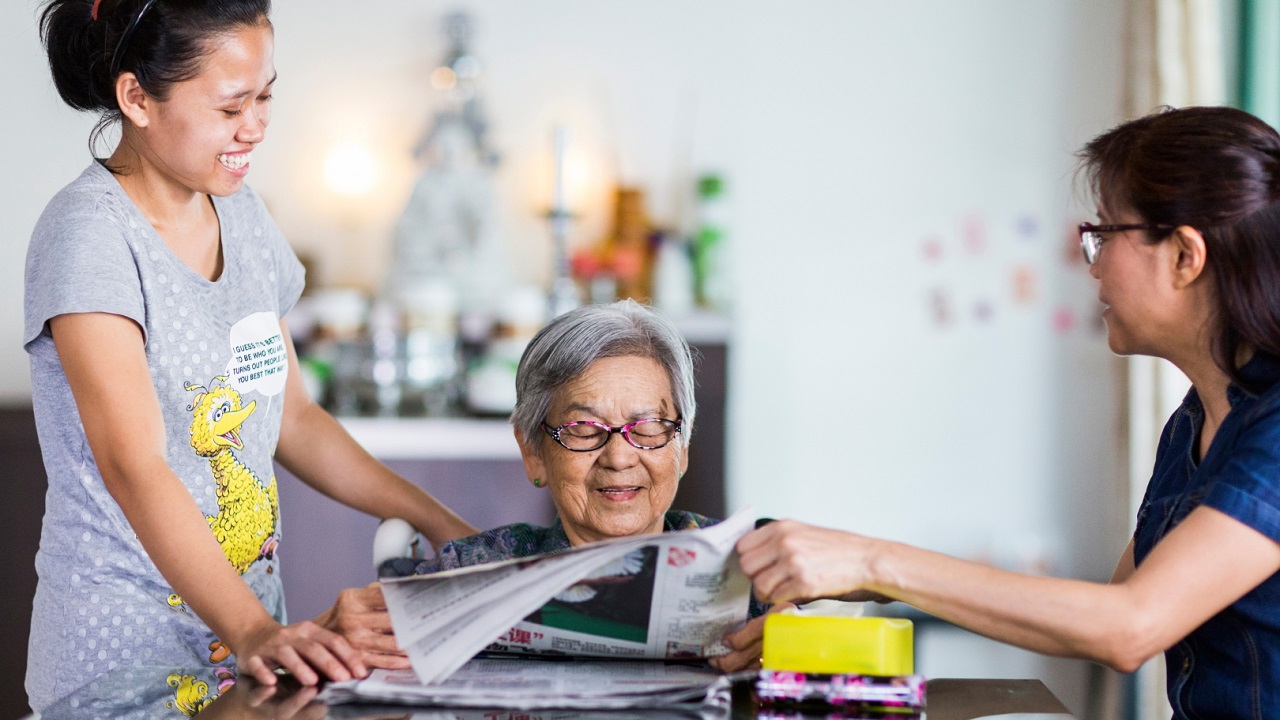 Hiring Maids for Elderly Care
[Last Updated on 07 May 2021]
The demand for elderly care is growing with each year. There are several options for elderly care such as sending your elderly to the aged homes or hiring a private nurse to care for your elderly at home — both of which are costly. Thus, the preferred and the most economical way is to hire a maid who has experience in elderly care.
A maid is commonly known as foreign domestic workers or FDW for short, and sometimes called domestic helpers, or for the case of specialising in taking care of elderly, simply called caregivers. Nowadays, there are many caregiver courses available that allows your foreign domestic workers to be equipped with relevant skills in giving the best care to your elderly at home.
These caregiver training courses will help your potential helper provide the best care for your elderly in their daily activities. Training can also help them acquire a better understanding of elderly needs. This will also give you confidence that your potential helper is able to provide optimal care for your elderly at home.
The main duties of foreign domestic workers involve, taking the elderly out for walks, cooking specific meals according to the diet requirements of the elderly, feeding medicine to the elderly if needed and companionship. The foreign domestic worker will spend most time with the elderly while family members are busy at work or at school. An elderly needs a companion to avoid loneliness, which is not good for their health.
According to the UN's 2017 World Population Ageing report, Singapore's population stood at 5.71 million as of 2017, consisting of 855,000 people under the age of 15, and 886,000 people aged 65 and above. This means that we are having an increase in our elderly population. Thus, more needs to be done to assist our greying population.
Today, to speed up the process of hiring a foreign domestic worker, some agencies are part of the Ministry of Manpower's new initiative known as the Advanced Placement Scheme (APS). Employers get to interview foreign domestic workers at the agency and do not need to wait for the chosen foreign domestic worker to fly in from their respective countries, unless employers decide to hire a maid on transfer.
The median age of the Singapore population would climb from 40 years in 2015, to 47 years in 2030 and 52.8 years in 2050.
This would mean that the dependency ratio will also be halved to almost 1:1, with one adult supporting a child or an elderly person. In 2015, there were 100 adults – persons aged 20 to 64 years – supporting about 50 children and elderly persons. But by 2050, 100 adults would have to support about 95 children and elderly persons.
Inevitably, more foreign domestic workers equipped with caregiving skills will have to fill this demand as there can only be so many aged homes in Singapore and it doesn't come cheap. Besides, most elderly will prefer to reside in a home they are familiar with, thus many would lean towards hiring a foreign maid for elderly care.
Before hiring a maid to help take care of elderly in your home, here are a few tips you incorporate in your decision-making process. Hiring a main is difficult and time consuming, thus adequate research is needed.
It is important that the foreign main which you hire has relevant experience to help care for your elderly. It is ideal to hire one who has adequate knowledge for the role and is able to complete tasks with minimal instructions. For example, an experienced helper would easily help an elder to the toilet without asking for additional help. Before hiring, you can ensure that the helper has formal eldercare training. This will mean that the maid will ensure top quality care to your elders.
Hiring an untrained and inexperienced maid can result in potential risks for the elderly, especially for those with special conditions.
If you are unsure of hiring a maid to take care of your elderly, you can always start the hiring process with an interview with potential candidates. This will help to ensure that she is trustworthy, caring and experienced in taking care of elderly. As it is not easy to put your trust in a maid, you will need to ensure that your elders are in safe hands. This means hiring someone that is loving and caring, for both you and your elderly to feel safe.
During the interview, get to know more about her morals and personality. Hiring one who has good ethics and manners, with a suitable personality is ideal. You can also ask her relevant questions throughout the interview and provide her with different scenarios to know more about how she will handle these situations. It is also essential that you set expectations for her. This can be done by telling her more about your elder's habits and nature, allowing her to have an idea of their current situation.
Remember to also see your elder's reaction to the particular maid. Observe how both the maid and your elder react when they are around each other. As some do not like the presence of a foreign maid in the house, you should observe how your elder is towards the maid as well. Ensure that your elder is satisfied with the helper's services and support around the home.
As elderly are prone to injuries, you should also ensure that the helper has basic knowledge in first aid. This can also help determine if your elderly is in safe hands.
If you need to hire a foreign maid for elderly care, do feel free to reach out to us at 6735 3456 and we will be more than happy to recommend suitable foreign maids with experience in elderly care for your selection.
Hiring a foreign domestic worker to help with the needs of your elderly is an important process as they would be taking care of your elderly on a long term basis. It is important that you ensure that these helpers have adequate skills suited to care for your elderly.
We do highly recommend hiring a Myanmese maid for taking care of the elderly. Myanmar maids typically cost the least, as compared to maids of other nationalities. They are also known to be fast learners and are easy to work with. Although language may be an issue at the start, they can easily pick up basic English, learning the language faster than others.
Many also find it easier to work with Myanmar maids, due to their sweet and diligent nature. It is important that you instruct them properly to allow them to perform their tasks well. These maids are also trained to care for the elderly, thus external training may not be necessary.
If you need a consultation to help with your decisions, do contact us at 6735 3456 or visit us at our office at #03-52 Lucky Plaza. We will be more than happy to discuss more on your needs and make recommendations thereafter.
For more information to hire a Myanmese transfer maid, do click
here
or to hire a Myanmese maid currently in Myanmar, do click
here
for more information. Have a nice day!