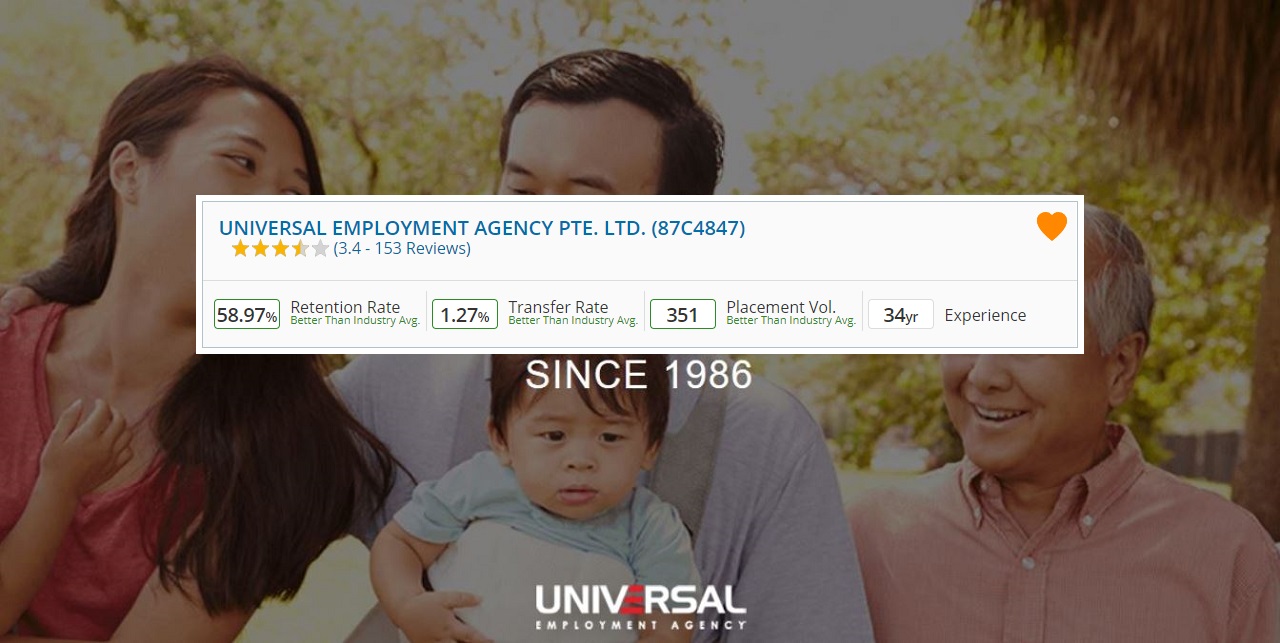 Maid Agency in Singapore
In a little nation such as Singapore which has over 250,000 maids working in Singapore, how many maid agencies do you think are there in total in Singapore if you may be curious to know? More than 1000 Maid Agencies in our sunny island, Singapore! Wow that is a lot, so where do you begin? A good start to narrowing down to a few maid agencies to reach out to is by asking for references from friends or relatives. Chances are, some of them may have good experience with their current maid agency.
But if you do not have any friends or relatives to ask for recommendations for a good maid agency to deal with, not to worry, in today's digital era, there are lots of useful information online. Firstly, you should go to the Ministry of Manpower's (MOM) website
here
to search for the right maid agency to work with. Just use their filtering feature to narrow down your choices to a handful.
Secondly, do individual research of each maid agency by using Google or Facebook. Read about the reviews of each maid agency before deciding which of them to contact.
Below are 2 very important filter to note and use when you search on MOM's website
here
:
Retention Rate
(Search for maid agency with retention rate above the industry average of 46.99% as of 19th Sep 2020)
Why is this important? Retention rate determines how long has the Foreign Domestic Worker (FDW) been placed out with their current employer. Example, if an agency places out 10 FDW in 1 year, and the retention rate is 50%, that means only 5 out of 10 FDWs would have completed at least 1 year with their current employer. The other 5 FDWs most probably didn't work out with their current employer and had to transfer to another employer or maybe she got homesick and decided to go back and etc.
Therefore, a high retention rate above the industry average of 46.99% simply means that such a maid agency has more success than other maid agencies who are below industry average of 46.99%, in matching the right FDW to the employer.
And we are proud to say our maid agency, Universal Employment Agency Pte Ltd has achieved one of the highest retention rate of 55.56% as of 19th Sep 2020 in the maid industry in Singapore.
Agency Experience
(Search for maid agency with over 10 years experience)
Why is this important? An established and reputable maid agency will most likely be those with over 10 years of experience. The more years of experience the maid agency has the better. It is no different if you have to go for a surgery, will you want a novice surgeon to operate on you or a very experienced surgeon with many years under his or her belt? Likewise, hiring a maid is a very important family decision because it affects everyone in the house if it's a bad hire or a good hire. And a maid agency with many years of experience will want to maintain her reputation, hence will always endeavour to recommend good maids only to you.
Not many maid agencies in Singapore have been established for over 30 years, only just a handful has such experience, and our maid agency, Universal Employment Agency Pte Ltd is proud to be one of them! We have over 30 years of experience and a stellar rating as stated on the Ministry of Manpower website.
We are also one of the few maid agencies in Singapore to have achieved across all stats "above the industry average" which goes to show that we are hitting all the right notes to deliver the best possible experience when it comes to hiring a maid in Singapore.
Lastly, we also wish to share that we have many
positive and 5-Stars reviews
which you can simply Google to find out or simply head over to our Facebook page
here
to read more about what others have to say about us. We are most humbled by the praises we have received over the many years and we most definitely will not rest on our laurels. In fact, we do promise to continuously improves ourselves to serve each and every customer to the best of our ability.
If you wish to be our next customer and hire a maid from us soon, please do not hesitate to give us a call at 6735 3456 and we will more than happy to assist. We look forward to serving you soon!