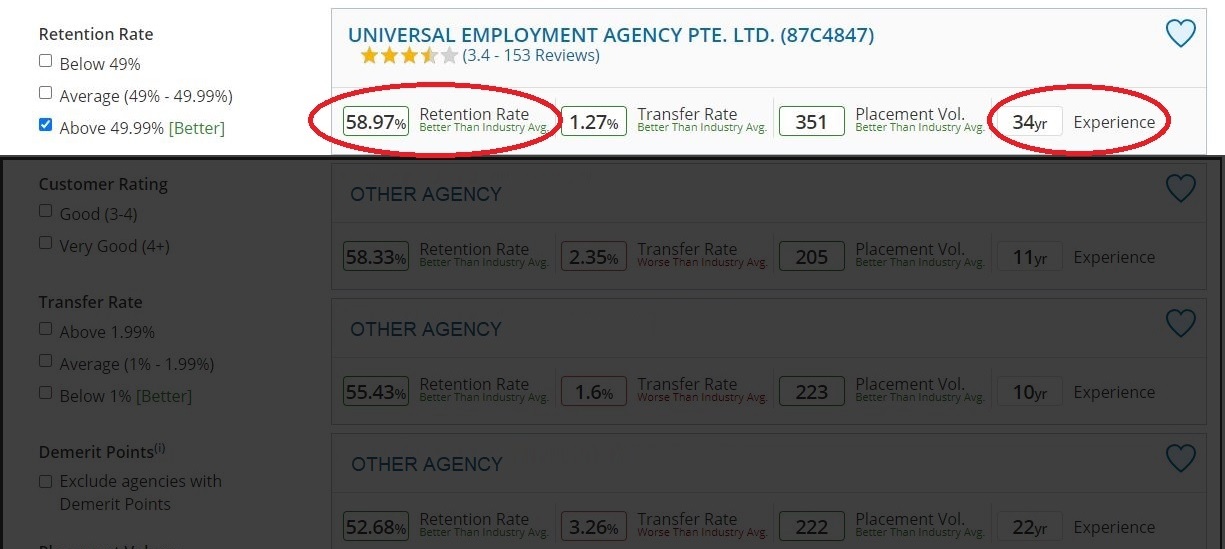 We have 1 of the Highest Retention Rate according to MOM
[Published on 05 Mar 2021]
We have 1 of the Highest Retention Rate (as of 5th March 2021) according to the Ministry of Manpower (MOM) and we are also one of the oldest maid agency in Singapore with over 34 years experience as you can see from the screenshot above which is taken from the MOM's website
here
and you just have to search for our maid agency name: Universal Employment Agency Pte Ltd to see our results on MOM. Currently it states that we are more than 9% above the industry average retention rate of 49.92%.
For those that do not know why retention rate is so important, basically retention rate is the number of maids placed by the maid agency which has stayed with their employers for 1 year or more. So having a high retention rate is definitely a good thing. And in fact, it probably tells you that the maid agency you are dealing with is doing something right when it comes to matching the right maid to the right family.
So how to perform the search on the MOM website? Simple! You simply select the following options on the left of the Filter Bar:
"Above 49.99%", "Placement Volume 201 - 600" and "Agency Experience Over 10 years"
and you will see the results which show
Universal Employment Agency Pte Ltd ranked #1
on that search result.
Apart from achieving one of the highest retention rate in the maid industry, we are also pleased to know that we are constantly ranked closed to 5 Stars on both Google Reviews and Facebook Reviews. It always gives us great satisfaction to know that there are many satisfied employers and maids who value our services all these years. Our Google Reviews can be found
here
and our Facebook Reviews can be found
here
Also, we are glad to be featured in this article which features some of the best maid agencies in Singapore and we are ranked #1. Read more about this article
here
. We will quote a part of the article here,
"With over three decades worth of industry experience, Universal Employment Agency firmly established itself one of the best maid agencies in Singapore especially when it comes to the hiring of transfer maids as they have the widest selection of transfer maids which is something that most other maid agencies do not have currently. Boasting high success rates and low transfer rates, they guarantee to match you with a helper for the long term."