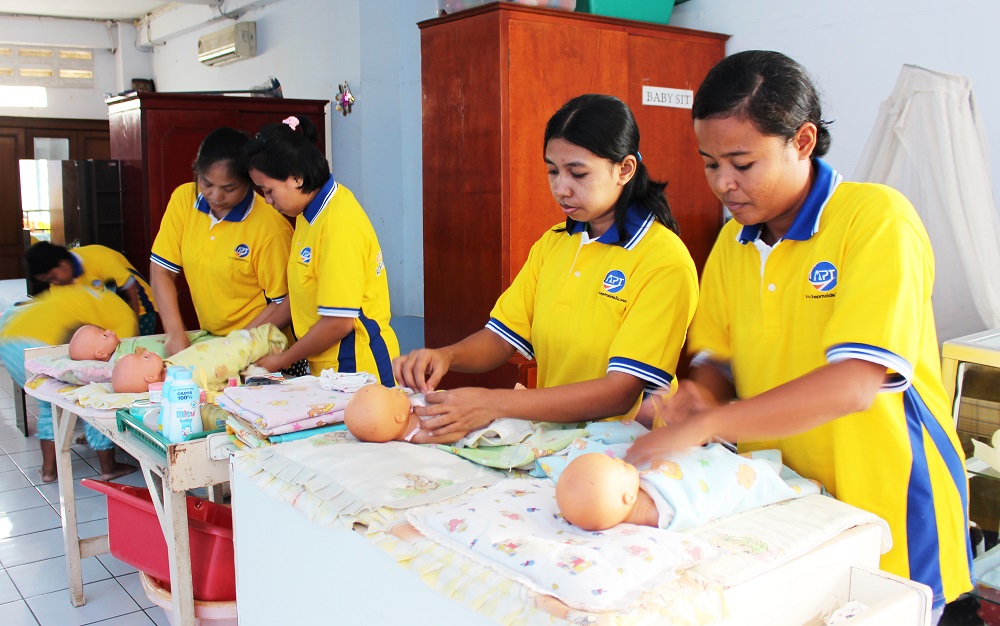 Hiring Maids for Care of Newborn
[Last Updated on 10 Apr 2021]
Like all working parents who have a newborn, we know how tough it is to give the best to your newborn while having a job too. The common solution will be to depend on the grandparents but even grandparents these days want to take a break and enjoy their golden years ahead. It's not that grandparents these days don't love their grandchildren, it's just that these days, there are more options available to working parents and hiring a full time maid is definitely one of the top choice to take care of newborn.
A babysitter could be considered but most babysitters will not come over to your house. This means that you will need to bring your newborn to the babysitter's house and pick them up after each working day. It is definitely a hassle and waste of time, thus hiring a full time maid to take care of your newborn is most practical.
The only main concern with hiring a full time maid to take care of your newborn is trust. Trust is not something you can judge from the maid's bio data and it isn't earned overnight. It helps if the maid you are planning to hire could be from your sibling or a friend who happen to not need their maid services anymore. So, trusting the maid is easier this way. One other way to gain trust in the maid quickly is to install a CCTV in your house to monitor her. That way, it discourages her to sleep on the job and thus bringing no harm to the newborn as she is constantly being watched. The only drawback to this is the maid might feel insecure that she isn't trustworthy. Friction may appear as a result but if communicated properly, it shouldn't be a problem.
If you are unsure of hiring a maid to take care of your child, you can always start the hiring process with an interview to ensure that she is trustworthy, caring and experienced in taking care of newborns. As putting your trust in a maid may not be easy, you will need to ensure that your baby is in safe hands. This means hiring someone that is loving and caring to children, for both you and your child to feel safe.
You also have the option of hiring a maid who is experienced in taking care of babies and kids. This means that they know how to take care of young children without much training. Some skills which your potential maid should have include, swaddling a baby, holding a baby, feeding and burping a baby, changing diapers, bathing them, and getting them to sleep.
Childcare is too early for a newborn and having one parent stay at home to take care is difficult due to the high standard of living in Singapore. A dual income family is often needed to maintain a certain lifestyle.
So, does Universal Employment Agency has maids that can take care of newborn? Of course, we do. Being in this industry for over 30 years, we see many employers coming to us to help find a good maid with good experience in taking care of newborn. To be frank, most maids would prefer not to take care of newborn babies because it's a round-the-clock job. Night feeding is needed for some maids or the maid has to sleep with the baby. These maids may feel very tried and lack of sleep. But this isn't too difficult for us as We can still you find a maid who is willing to take care of your newborn child.
We will usually advise the employer to give the maid ample rest. If the maid stayed up late, then the employer should allow her to have an afternoon nap. If the maid isn't well rested, it will also be dangerous for the maid to take care of your newborn.
In addition, we will advise the employer to not expect much out of the maid to do housework and cook, as most of her time would be devoted to taking care of the newborn. If this cannot be compromised, then we advise the employer to consider hiring a second maid to focuse on housework and cooking. One maid can only do so much, so it isn't ideal to push the maid over the line as high chances are that she won't want to work for you very soon and will request for a transfer. When this happens, it gets extremely frustrating having to find another maid, forking out for money towards agency fees, especially if a replacement for a new maid can't be found.
For employers with twins as newborns, we encourage employers to hire two maids rather than one. This is as it is already difficult for a maid to handle one newborn.
If you are expecting a newborn soon, it also helps to hire a maid before the newborn arrives as this will give you a chance to train your maid to your expectations, further preparing her on how to handle your newborn both mentally and physically. It is always challenging to take care of a newborn and is best advised to look for a maid as early as 3 months before you are due.
When training your new maid to take care of your newborn, there are some things you can do to ensure she is prepared. One of which is to teach her what to do in an emergency, especially when you are not at home or contactable. This can be done through enrolling her in a first aid course. Let her know more about the numbers to contact in case of emergency as well as the closest hospital to your home.
It is also important to train her to keep your baby safe. This means never taking her eye away from your child and never leave them alone, even for a few minutes. There are also many important things that they need to take note off such as strapping your baby in a 'safe spot' or checking that there are no sharp objects around that may pose as a safety hazard. Being alert is important and she should alert you if she notices any unusual changes in your child.
When looking for potential maids, you can also consider those that are qualified in childcare. This means that they have ample knowledge to help provide your newborn with a balanced diet and appropriate care. If the maid you wish to hire does not have these qualifications, you can also consider signing them up for some recognized courses. This will help them improve on necessary skills to help take care of your newborn.
For a free expert consultation, do contact us at 6735 3456 or visit us at our office at #03-52 Lucky Plaza. We will be more than happy to discuss more on your needs and make recommendations thereafter.
We do highly recommend hiring a Filipino maid for taking care of newborn due to their better command of the English language. Good communication skills are important for them to understand your newborn better. They should be able to communicate with you regarding your child's wants and needs. For more information to hire a Filipino transfer maid, do click
here
or to hire a Filipino maid currently in Philippines, do click
here
for more information. Have a nice day!