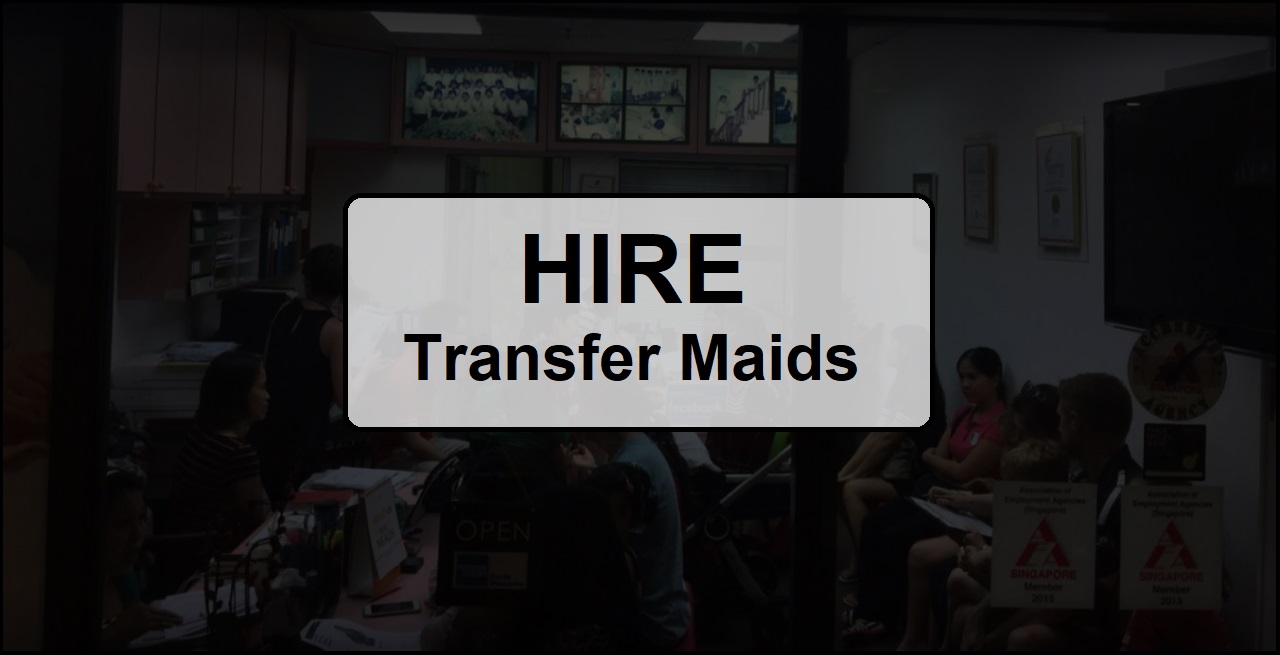 Hiring a Filipino Transfer Maid in Singapore
[Last Updated on 19 Mar 2021]
Hiring a transfer maid is especially popular during this COVID-19 pandemic period. Why? Simply because it is
cheaper and faster to hire a transfer maid compared to hiring a maid currently overseas
. Those are 2 good reasons enough to convince most employers in Singapore to hire a transfer maid especially now which we will explain in detail below.
But with so many different nationalities, which should you hire? Do you hire a Filipino transfer maid? Or do you hire an Indonesian transfer maid? Before we get to that, first let's understand what a transfer maid today will request in terms of salary and days off, then if you can match it, we will talk about why a certain family may prefer hiring a Filipino transfer maid over other nationalities.
Most transfer maids today will request an expected salary of $800 minimum (regardless her nationality) and will also expect her weekly days off (most will want only on Sundays) which is 4 times in a month.
Some will even request for Public Holidays to be their day off but we will usually advise them that Public Holidays are bonus, so do not demand for it. Some employers will give all Public Holidays, some will give a few and some not at all.
So now that you know what transfer maids want, the question you need to ask yourself is, is that acceptable by you? There is no right or wrong answer because every family has different needs. Some families really cannot afford to give days off because constant care is needed for their sick elderly, some employers even say that if they give the maid a day off, then they, the employers themselves can't rest on their only weekend break. When we do hear this kind of reason, we will take the opportunity to educate these employers and tell them that they have a valid point, but what about from the maid's point of view? They are human too, and they need a break to recharge. I'm sure some family arrangements can be made internally to take turn to look after the sick elderly.
And with regards to the salary, every family has a budget and not everyone can afford to offer $800 or more to hire an experienced transfer maid, which if that's the case, then we will advise them to hire a fresh maid (find out more
here
), an ex-abroad maid (find out more
here
) or an ex-Singapore maid (find out more
here
).
Now, assuming a minimum salary of $800 and weekly days off isn't an issue for you, great! You have the option now to hire a transfer maid. So, should you go for a Filipino, or an Indonesian or a Myanmese transfer maid?
We will usually advise for families with young children or baby, go for a Filipino. If simply housework and cooking, go for an Indonesian and usually an Indonesian is the better cook among the 3, especially for those that love spicy food! As for taking care of elderly, go for a Myanmese transfer maid.
However, the most important thing is to make sure you feel that you can connect with her when you interview her. Make sure you feel there is good chemistry, that's most important.
Although we all like to have as many choices and be able to choose, sadly, I have to break this piece of bad news to you. There are not many transfer maids to choose from unlike in the past. Why, you may ask? Well, because of this COVID-19 pandemic, what has happened as a result of the recent Circuit Breaker that everyone in Singapore had to go through has actually caused many maids being stuck in their home countries, due to their own country lockdowns, flight delays and cancellations, parents of these maids not allowing their daughters to work overseas as the initial high rate of COVID-19 cases in Singapore during the early stage spooked many of them that Singapore is a dangerous country to work at due to the virus and etc.
A pent-up demand was created as a result of the Ministry of Manpower (MOM) being super strict about disallowing even transfer maids that are already in Singapore to get a Work Permit approval to move from one family to another, and will only approve the Work Permit if there are valid reasons. At the start, even the Singaporean Citizens were not getting approval but subsequently, the Singaporean Citizens were the first group to be allowed to hire a maid, followed by the Singapore PRs and the expatriates. This strictness by the MOM has indeed caused a pent-up demand whereby those employers who were initially having hopes of bringing in the maid they chosen before the Circuit Breaker from overseas but has now decided to change strategy and hire a transfer maid instead because she is already in Singapore. Why? Because hiring a transfer maid is the only way to avoid paying the hefty costs of the Stay-Home Notice (SHN) $1,500 + the COVID-19 Tests $300 which amounts to a total of $1,800. That's simply too much to bear and caught many by surprise. Some even gave up hiring a maid altogether and resigned to fate that they are better off to wait until the pandemic is over.
So what happens next? The mad rush to hire a transfer maid when Phase 2 of the Circuit Breaker started. Maid agencies in Singapore were finally able to operate their business from their retail shop instead of from home, but with social distancing in place. There were more confirmations that MOM was starting to approve more Work Permit applications and that inspired confidence among many employers that hiring a transfer maid seems to be the better choice. But another problem ensue, those employers who put off hiring a the new maid from overseas to replace their current maid in their household has found an even better solution, keep the current maid at all costs. Initially, they may have agreed to let their current maid transfer to a new employer, but has now changed their mind. But of course, it doesn't solve those maids who have to go home for personal reasons. However, those employers will now try to change their minds of going home by offering them a higher salary, some took the bait and accepted a higher salary and sacrifice seeing their family any time soon.
Some maids reason that going back home isn't any safer than Singapore and will have to be quarantined upon arrival in their own country, so might as well continue working in Singapore. And some fear that it won't be so easy to get a job in their own country or if they have a sudden change of mind and wish to come back to Singapore to work, they will face difficulties too.
At this current moment,
it is not surprising that for every 1 transfer maid available, there are 10 urgent employers wanting to hire her,
as reported in the Straits Times in November 2020. Such is the cruel reality of the transfer maid market for employers as of today but there is still a piece of good news to share and that is our maid agency,
Universal Employment Agency Pte Ltd is one of the few maid agencies in Singapore with a good selection of transfer maids for you to interview and hire.
Of course, depending on your requirements, we will determine if it's a good match before we arrange a video interview so if you have a need to hire a transfer maid soon, do not hesitate to approach our friendly sales team at 6735 3456 and we will more than happy to discuss your requirements and find you the right transfer maid soon for your family!