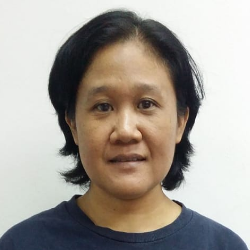 Willing 2 Days Off
About Ermin
Ermin can communicate very well in English and she updates me regularly via messaging on how my mother is doing. Ermin is also independent & patient in caring for the elderly.
Ms Lim, Employer's daughter Her current Employer says Ermin speaks and writes in English well. She can follow recipes on YouTube. She has a pleasant and calm personality.
Ms Chong, Employer
Ermin (A10032369) | Total salary $680 including 2 days off compensation
| | |
| --- | --- |
| Type | : Transfer |
| Nationality | : Indonesian |
| Place of Birth | : Lumajang |
| Age | : 43 |
| Height | : 1.55 m |
| Weight | : 66 kg |
| Religion | : Muslim |
| | |
| --- | --- |
| Marital Status | : Single |
| Age of Children | : 17 |
| Education Level | : High School |
| Other Qualification | : SMA |
| Basic Salary & Day Off | : $630 & 2 Days Off |
| Last Drawn Salary & Day Off | : $680 & 2 Days Off |
| Available From | : Anytime |
LANGUAGES

Able to speak:

Able to understand:

English

Bahasa Indonesia

English

Bahasa Indonesia

Able to understand:

English

Bahasa Indonesia
QUESTIONNAIRE

Are you willing to have NO day off?

: No

Are you able to work with another helper?

: Yes

Are you prepared to take off on a weekday?

: Yes

Are you willing to wash car?

: Yes

Can you handle pork?

: Yes

Can you swim?

: No

Do you eat pork?

: No

Can you handle pets?

: Yes

Have you suffered from any allergy?

: Yes

Can you handle dogs?

: Yes

Are you able to accept a vegetarian diet?

: Yes

Can you handle cats?

: Yes
SKILLS

Working Experience:

Chinese Food

Indonesian Food

Able to follow recipes

Able to cook :

Chinese Food

Indonesian Food

Able to follow recipes
COUNTRY OF EMPLOYMENT
Singapore: 5 Employers for 11 Years & 2 Months
LATEST EMPLOYMENT DETAILS

Name of Employer

: Miss Chong

Date of Employment

: Feb 2019 to present

Nationality

: Singaporean Chinese

Total Family Members

: 3

Type of Residence

: Landed

Present Age of Child

:

Country of Employment

: Singapore

Present Age of Elderly

: 82 (Mother)

Reason for Leaving

: Employer's previous helper is coming back to work. So I want to transfer.

Job Scope

Care for Elderly

General Housework

Cooking
LONGEST EMPLOYMENT DETAILS

Name of Employer

: Mdm Eng

Date of Employment

: May 2007 Mar 2013

Nationality

: Singaporean

Total Family Members

: 3

Type of Residence

: HDB

Present Age of Child

: 22

Country of Employment

: Singapore

Present Age of Elderly

: 99 (Employer)

Reason for Leaving

: Finished 3 Contracts. I went back home because my mother was ill.

Job Scope

Care for Elderly

Care for Disabled

General Housework

Cooking

Interviewer Remarks

She was the caregiver of her employer who suffered from a stroke and half body paralyzed She bathe her, help to change clothes and she only use diaper when they go out. She prepare and cook only soft food for her, usually she cook soup and porridge. But for this Employer she only cook sometimes as Employer prefer to eat outside as she find too boring to eat in the house. She also help Grandma in doing exercise.