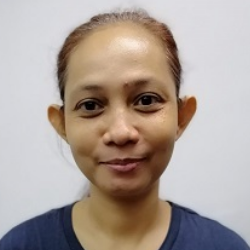 Willing 0 Day Off
About Musti
Mustikawati has worked in Spore for 4 yrs 9 mths for 2 employers only even though in MOM it shows 4 employers. 1st and 2nd employer are related and 3rd and 4th employer are related too. She has good experience taking care of elderly who were bedridden. She can cook Indonesian food but is willing to learn to cook Chinese food. She's willing to take care of babies/children and does not mind to take care of elderly/disabled again. She can accept no day off too.
Elizabeth, UEA Interviewer
Musti (A10033269) | Total Salary $700 incl of 4 Days Off Compensation
| | |
| --- | --- |
| Type | : Transfer |
| Nationality | : Indonesian |
| Place of Birth | : Jakarta |
| Age | : 41 |
| Height | : 1.59 m |
| Weight | : 57 kg |
| Religion | : Muslim |
| | |
| --- | --- |
| Marital Status | : Divorced |
| Age of Children | : 8 & 15 |
| Education Level | : High School |
| Other Qualification | : |
| Basic Salary & Day Off | : $600 & 4 Days Off |
| Last Drawn Salary & Day Off | : $620 & No Day Off |
| Available From | : Anytime |
LANGUAGES

Able to speak:

Able to understand:

English

Bahasa Indonesia

Hokkien

English

Bahasa Indonesia

Hokkien

Able to understand:

English

Bahasa Indonesia

Hokkien
QUESTIONNAIRE

Are you willing to have NO day off?

: Yes

Are you able to work with another helper?

: Yes

Are you prepared to take off on a weekday?

: Yes

Are you willing to wash car?

: Yes

Can you handle pork?

: Yes

Can you swim?

: Yes

Do you eat pork?

: No

Can you handle pets?

: Yes

Have you suffered from any allergy?

: No

Can you handle dogs?

: No

Are you able to accept a vegetarian diet?

: Yes

Can you handle cats?

: Yes
SKILLS

Working Experience:

Indonesian Food

Able to follow recipes

Able to cook :

Indonesian Food

Able to follow recipes
COUNTRY OF EMPLOYMENT
Singapore: 2 Employers for 4 Years & 9 Months
LATEST EMPLOYMENT DETAILS

Name of Employer

: Mdm Janet

Date of Employment

: Jul 2017 to Present

Nationality

: Singaporean Chinese

Total Family Members

: 2

Type of Residence

: HDB

Present Age of Child

:

Country of Employment

: Singapore

Present Age of Elderly

: Grandpa 86

Reason for Leaving

: Employer's father passed away so they don't need a maid anymore.

Job Scope

Care for Elderly

Care for Disabled

General Housework

Buy Groceries / Marketing

Interviewer Remarks

She was employed under Father's name from Oct 2015 to Jul 2017 before she was transferred to his daughter, Mdm Janet and has been working in the same house. She worked together with another Indonesian maid taking care of Grandpa who is bedridden and he is big size weighing 80 kgs and height 170 cm. She goes marketing and she cook her own meal.