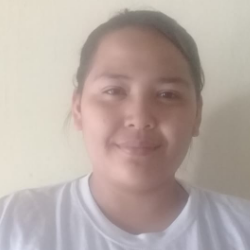 Willing 2 days Off
About Endang
Endang is an ex-Spore Indonesian maid who has worked in Spore for 4 yrs. She has experience taking care of employer's 2 children ages 2 and 7 when the youngest was newborn and the eldest was 3 1/2 yrs old. She can cook Indonesian, Malay and Chinese food as her Sir is a Malay and her Ma'am is a Chinese. She loves children and is therefore suitable to any employer who needs her to look after babies and children. She also can work in big house, willing to look after dogs and cats. She also like cooking and can cook dishes like chicken soup, rendang, steam fish, sweet & sour chicken, soto, mee rebus, satay, curry, etc. She is positive and flexible who is willing to have 2 days off per month.
Elizabeth, UEA Interviewer
Endang (A10033337) | Total Salary $650 incl of 2 Days Off
| | |
| --- | --- |
| Type | : Ex-Singapore |
| Nationality | : Indonesian |
| Place of Birth | : Kediri |
| Age | : 35 |
| Height | : 1.55 m |
| Weight | : 87 kg |
| Religion | : Muslim |
| | |
| --- | --- |
| Marital Status | : Married |
| Age of Children | : 4(B) |
| Education Level | : Secondary School |
| Other Qualification | : |
| Basic Salary & Day Off | : $600 & 2 Days Off |
| Last Drawn Salary & Day Off | : $450 & No Day Off |
| Available From | : Anytime |
LANGUAGES

Able to speak:

Able to understand:

English

Bahasa Indonesia

English

Bahasa Indonesia

Able to understand:

English

Bahasa Indonesia
QUESTIONNAIRE

Are you willing to have NO day off?

: No

Are you able to work with another helper?

: Yes

Are you prepared to take off on a weekday?

: Yes

Are you willing to wash car?

: Yes

Can you handle pork?

: Yes

Can you swim?

: No

Do you eat pork?

: No

Can you handle pets?

: Yes

Have you suffered from any allergy?

: No

Can you handle dogs?

: Yes

Are you able to accept a vegetarian diet?

: Yes

Can you handle cats?

: Yes
SKILLS

Working Experience:

Chinese Food

Indonesian Food

Able to follow recipes

Malay

Able to cook :

Chinese Food

Indonesian Food

Able to follow recipes

Malay
COUNTRY OF EMPLOYMENT
Singapore: 2 Employers for 4 Years & 0 Month
LATEST EMPLOYMENT DETAILS

Name of Employer

: Mr Rafiq

Date of Employment

: Jan 2010 to Jul 2013

Nationality

: Singaporean Malay

Total Family Members

: 4

Type of Residence

: HDB

Present Age of Child

: 2(B) 7(G)

Country of Employment

: Singapore

Present Age of Elderly

:

Reason for Leaving

: Finished 2 contracts and I went home to get married.

Job Scope

Care for Newborn

Care for Infant

Care for Children

General Housework

Cooking

Interviewer Remarks

Both her Sir and Ma'am are working. Ma'am is a Singaporean Chinese. The baby sleeps in the same room with Endang. She bathe, feed, play and put the baby to sleep.