page: profile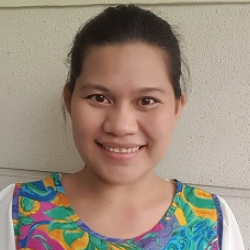 Willing 1 to 2 Days
About Marichel
Maricel is an experienced Filipino helper who has finished her 2nd contract with her current employer. She has experience with elderly who is bedridden. She loves babies and children and she says she can take care. She can also work in big house, not afraid to take care of dogs and cats. She has passion for cooking and can follow recipes. She describe herself happy, hardworking, willing to learn and can multi-task. She requests for 1 to 2 days off per mth.
Elizabeth, UEA Interviewer
Marichel (A10033979) | Total Salary $840 incl of 3 Days Off Compensation
| | |
| --- | --- |
| Type | : Ex-Singapore |
| Nationality | : Filipino |
| Place of Birth | : North Cotabato |
| Age | : 42 |
| Height | : 1.57 m |
| Weight | : 57 kg |
| Religion | : Catholic |
| | |
| --- | --- |
| Marital Status | : Married |
| Age of Children | : None |
| Education Level | : Undergrad |
| Other Qualification | : |
| Basic Salary & Day Off | : $750 & 1 Day Off |
| Last Drawn Salary & Day Off | : $750 & 1 Day Off |
| Available From | : 4 Weeks |
LANGUAGES

Able to speak:

Able to understand:

English

Tagalog

English

Tagalog

Able to understand:

English

Tagalog
QUESTIONNAIRE

Are you willing to have NO day off?

: No

Are you able to work with another helper?

: Yes

Are you prepared to take off on a weekday?

: Yes

Are you willing to wash car?

: Yes

Can you handle pork?

: Yes

Can you swim?

: No

Do you eat pork?

: Yes

Can you handle pets?

: Yes

Have you suffered from any allergy?

: No

Can you handle dogs?

: Yes

Are you able to accept a vegetarian diet?

: Yes

Can you handle cats?

: Yes
SKILLS

Working Experience:

Chinese Food

Filipino Food

Able to follow recipes

Able to cook :

Chinese Food

Filipino Food

Able to follow recipes
COUNTRY OF EMPLOYMENT
Singapore: 1 Employer for 3 Years & 11 Months
LATEST EMPLOYMENT DETAILS

Name of Employer

: Mdm Tan

Date of Employment

: Jul 2016 to Jun 2020

Nationality

: Singaporean Chinese

Total Family Members

: 5

Type of Residence

: Landed - 3 sty

Present Age of Child

: 24, 28 & 30

Country of Employment

: Singapore

Present Age of Elderly

: Empl 63 Sir 66

Reason for Leaving

: Finished Contract.

Job Scope

Care for Elderly

Care for Disabled

General Housework

Interviewer Remarks

Her main focus is to take care of Sir who is bedridden. She take vital signs, suctioning, feed medicine and milk, bathe, turning him every 2 hours, transferring him from bed to wheelchair, bring him outside, exercise and massaging him.